Twenty-two 900mm Tideflex check valves have been operating problem-free on the Tees Barrage Fish Pass since 1995. This is another example of how Tideflex duckbill valves can be used to solve complex or unusual problems faced in design.
Project details
Client: English Partnerships / British Waterways
Design: 22No. 900mm Tideflex valves
(*photo credit Tees Barrage by John Yeadon)
The Tees Barrage is a barrage across the River Tees between Middlesbrough and Stockton-on-Tees in North East England and is used to control the flow of the river, preventing flooding and the effects of tidal change. The barrage was designed as part of a competition won by Ove Arup & Partners and the Napier Partnership. Construction work was started in November 1991 and it was opened in April 1995. At the time it was the largest civil engineering project in the UK. 
In order to allow migratory salmon and sea trout to negotiate the barrage, a fish pass with fish counter and viewing area was installed next to the north bank pavilion. The design required non-return valves to operate on the fish passage so that the impact of tidal water on the fresh water on the upstream river and artificial whitewater course could be minimised.
This would allow fish to swim downstream and out to sea, but prevent sea water from flowing upriver through the passage during high tide. The National Rivers Authority (NRA) was understandably concerned about the impact of these valves on the fish and as part of the design it was proposed to use Tideflex check valves to address these concerns. It was considered that the flexible rubber design would reduce the risk of damage to the fish.
The video below is of the fish passage tests conducted by the NRA in 1993 using a scale model of the proposed design. Instead of the 900mm valves to be used with the adult fish, a 150mm valve was used in the tests with two different sizes of much smaller fish. The test was a success and the design went ahead as proposed.
Contact us if you have a unique drainage problem that needs someone with experience in research and development projects.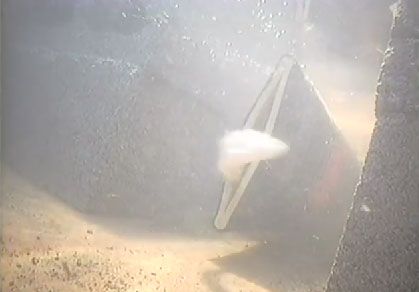 One of the larger fish exiting the Tideflex valve during the test.