Knife Gate Valves
RED VALVE

Red Valve is the world's largest manufacturer and supplier of pinch valves and has become the preferred supplier for municipalities and industrial plants worldwide. Red Valve's advanced elastomer technology is engineered into all their valves.
Red Valve's Knife Gate Valves are the perfect compliment to our broad range of slurry handling products. Standard features such as precision-machines gates, heavy-duty topworks and cast-iron bodies up to 24" make the valves rugged and dependable. Other features such as replaceable wear seats, simplified packing replacement or solid stainless steel linings make the valves affordable and easy to maintain.
Contact us today to order the knife gate valve suited to your process needs. We deliver worldwide at a competitive price.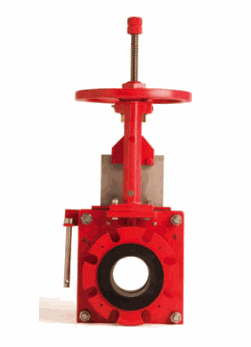 Series DX Slurry Knife Gate Valve
The Series DX slurry knife gate valve features replaceable valve sleeves that are abrasion resistant and a design that allows for slurry discharge, resulting in a clear seat area and gate path. This unique knife gate valve design makes the Series DX perfect for your toughest slurry applications.
When the valve opens, the Series DX reinforced elastomer sleeves seal against each other and provide a 100% full port opening, which minimizes turbulence, and in turn eliminates wear. The seats isolate and protect all metal parts of the valve from coming in contact with the process. When the valve is closed, the sleeves provide a drop tight seal.
Each time the valve strokes, the Series DX Valve is designed to discharge a small amount of slurry out of the valve, which keeps the gate path and seat area clear of entrapped particulates, which might otherwise prohibit the valve's ability to close.
Find out more here.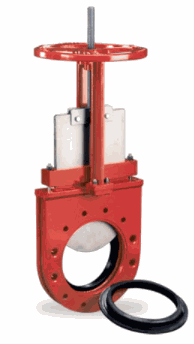 Flexgate Slurry Knife Gate Valve

Flexgate manual slurry knife gate valves are strongly suited for difficult abrasive slurry services in the chemical and power industries.
The Flexgate valve is designed with a cast iron body or fabricated steel body, stainless steel gate, and two heavy-duty elastomer cartridge slurry seats. The port is formed by two heavy duty cartridge elastomer slurry seat halves. The cartridge slurry seats are available in various elastomers for chemical compatibility and abrasion resistance. A flush area at the valve's base provides a clean-out port. The Flexgate valve provides bi-directional shutoff. A heavy-duty topworks is standard.
Flexgate Valves are available with pneumatic, electric or hydraulic actuators. Other options include limit switches, solenoids and air regulators and chainwheels. Red Valve manufactures its pneumatic actuators using Black Amalgon, a fiberglass-reinforced epoxy resin.
Find out more here.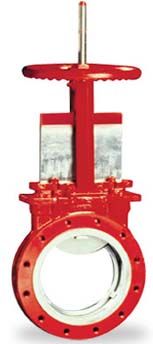 Series G Knife Gate Valve
The Series G Manual Knife Gate Valve features a cast iron body with stainless steel wetted parts. This efficient valve design affords the user a high-quality valve in which all the wetted parts, including the gate, seat, pack­ing gland and flange face are stainless steel while providing cost savings with cast iron flanges. The Series G has a double-lead ACME thread that reduces operating torque.
These valves are manufactured to handle a wide variety of fluids in chemical plants, pulp and paper mills, wastewater treatment plants, mining operations, sugar mills and food­ processing facilities. As with all RV valves, they are available with pneumatic, electric or hydraulic actuators.
Large diameter (up to 144 in.) Series G knife gate valves are a good choice for mining and power generation – it also makes an excellent valve for flood control and pumping stations. These valves feature a robust construction designed to handle the immense forces involved in large-diameter pipelines.
Find out more here.