Pinch Valves

RED VALVE

Red Valve is the world's largest manufacturer and supplier of pinch valves and has become the preferred supplier for municipalities and industrial plants worldwide. Red Valve's advanced elastomer technology is engineered into all their valves.
When you specify a Red Valve Pinch Valve, you can be confident knowing the internal elastomer sleeve is superior in design, construction, durability and performance.
Red Valve has been manufacturing Pinch Valve Sleeves longer than any other company in the world. Each Red Valve Pinch Valve Sleeve is backed by unmatched elastomer technology, knowledge and manufacturing expertise.
Contact us today to order the pinch valve suited to your process needs. We deliver worldwide at a competitive price.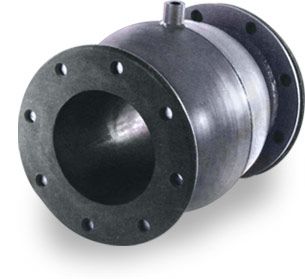 Air-operated Pinch Valves
Actuation of these valves, the pinching action, is accomplished by air or hydraulic pressure placed on the sleeve. Modulating the air pressure within the annular space between the body and the sleeve can open, throttle or close the valve.The valve body acts as a built-in actuator, eliminating costly pneumatic, hydraulic or electric actuators.
Find out more here.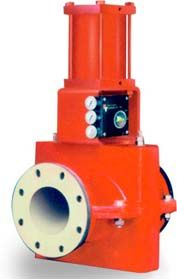 Control Pinch Valves
Red Valve Control Pinch Valves offer maximum durability with precise control and virtually no maintenance. A heavy-duty, rugged pinch mechanism positions the sleeve, resulting in accurate flow control. Red Valve Control Pinch Valves have no packing to maintain or seats to wear, no fugitive emissions and no need for expensive body alloys. Red Valve Control Products are available with pneumatic, electro-pneumatic, or digital positioners to link up to all control systems. Find out more here.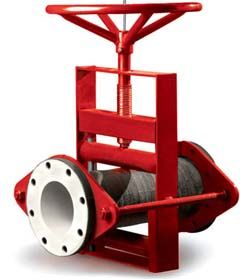 Manual Pinch Valves
Red Valve Manually Actuated Pinch Valves are reliable, maintenance-free, cost-effective valves engineered for tough slurries, abrasives, and corrosive chemical applications. They feature bi-directional droptight shutoff in a design that meets the same face-to-face dimensions as gate, plug, and ball valves up to 12".
Find out more here.